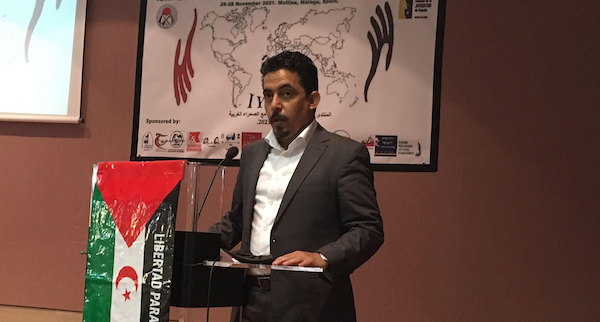 (SPS)- Polisario Front Representative in Europe and the European Union, Mr. Oubi Bouchraya Bachir, urged the participants to the International Youth Forum for Solidarity with Western Sahara (IYFSWS), during its opening session yesterday evening in Malaga, Spain, to intensify efforts aimed at supporting the Saharawi people and to push for the fulfillment of the right to self-determination and independence of Western Sahara.
Mr. Oubi was representing the Polisario Front in this second edition of the Forum, which gathered more than 150 youth representing more than 90 youth organizations from 41 countries, including 10 international youth organisations and representatives of international bodies.
The Sahrawi official expressed his deep regret for the failure of the United Nations and the international community to assume their responsibilities in concluding the decolonization process in Western Sahara, recalling that the Front and Morocco had signed the previous OAU-UN Settlement Plan, before Morocco violated the ceasefire in November 2020, causing the resumption of armed conflict and a military confrontation imposed on the Saharawis.
In this context, Oubi stressed that Polisario Front is determined to continue the legitimate armed struggle against the Moroccan occupation until the realization of the right of the Saharawi people to freedom and independence, confirming at the same time that Polisario Front is open to any peaceful option that is based on the OAU-UN Settlement Plan, the only agreement signed by the two parties.
On the other hand, Polisario Front's Representative emphasized the symbolism of organizing this youth forum in Spain, as a European country responsible for the suffering of the Saharawi people being the former colonial state of Western Sahara.
He considered that Spanish state's attitude of turning its back on its responsibilities towards the Saharawi people, and regarding the decolonization of Western Sahara, is no longer acceptable.
He further referred to the victories of Polisario Front at the level of the European Court of Justice, expressing his regret for the European Union's attempts to overturn the court's clear decisions that ruled out the validity of the European-Moroccan trade agreements that include the occupied lands and waters of Western Sahara.
The organization of this second edition of the forum is supervised by the members of the the foreign department of the Saharawi Youth organization, UJSARIO, in cooperation with the Spanish Youth Council (CJE), and the European-Latin American Youth Center (CEULAJ) where the forum is organized.
The opening session listened to official speeches by Polisario Front's Representative, UJSARIO's, CEULAJ's and CJE's, followed by statements by representatives of the participating International Organizations and heads of delegations of youth organizations.
The work of the forum continue this morning in four workshops take place tomorrow in the form of workshops discussing several issues related to the conflict in Western Sahara.
The first groups of participating delegations arrived this morning in Malaga, where the Forum will take place a few hours later this evening.
The Sahrawi youth chose to organize the second edition of the forum in Spain to remind Madrid of its historical and legal responsibility in the conflict in Western Sahara, and to hold the Spanish and European youth in general the task of correcting the historical mistake made by the Spanish government in 1975 when it abandoned its responsibility in the decolonization of the Western Sahara. (SPS)