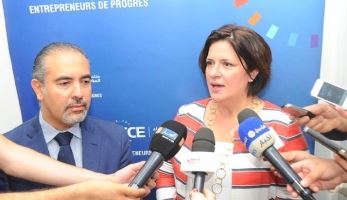 The 12-page report will be published on the website of the US most visited newspaper, during the Annual Meetings of the International Monetary Fund (IMF) and the World Bank (WB), planned from 7 to 9 October in Washington.
Fuentes, who was speaking to the press following a meeting with Vice-President of the Managers Forum Salah-eddine Abdessemed, said that the report aims at "demystifying" Algeria image within the US public and investors.
"The bulk of the report will be centered on Algeria's effort to establish a new economic model," said Fuentes.
"Algeria has spent huge investments in infrastructures in the past decade and we are starting to reap the fruits of these investments.
Algeria also engaged actions to open to Africa, improve trade in the region and place itself as a regional hub," she added.
Some chapters of the document will be devoted to the strategic sector of the country's economy, mainly agriculture and food-processing industry, besides to health and pharmaceutical industry.
"What interests us is the technological added value and the integration rate in Algeria," said Fuentes.
The Agency experts will closely work with the FCE member companies as well as with the public institutions, for a better collection of data.
Fuentes said that the report on Algeria will be the first among a series of reports to be elaborated by Washington Post.
Source: APS