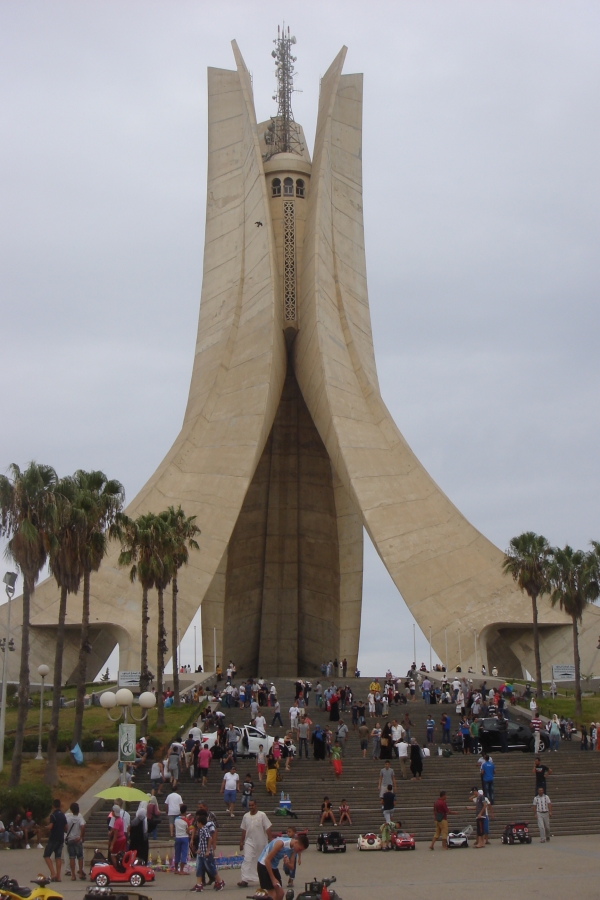 Algeria possesses a fantastic architectural scene due to the blending of cultures in that country, including the French, Spanish, Berber and Roman ones.
There is much beauty to be seen in this lovely country starting with the architecture. Here are the most beautiful buildings and architecture in Algeria.
1-Maqam Echahid " The Martyrs' Monument":
Maqam Echahid – in English, the Matyrs' Memorial or Monument– stands on top of a hill overlooking the Jardin d'Essai du Hamma botanical park and the Mediterranean Sea in south-central Algiers.
92 metres high and made of concrete, it depicts three giant palm leaves propped against one another to form a tripod while an 'eternal flame' burns underneath.
It commemorates Algeria's War of Independence and those who died in it and was opened in 1982, twenty years after the country became independent.
Location:
The Martyrs Memorial is located on the heights of Algiers, in the municipality of El Madania, west of the Bois des arcades, east of the city Diar el Mahçoul and north of the plaza shopping center Riadh El Feth. It overlooks the neighborhood of Hamma (common Belouizdad) and the Botanical Garden Hamma (known as Jardin d'essai) in the north. The monument has been erected on the site of an ancient military fort.
Despite it symbolising a very Algerian event, the monument was the result of an international collaboration.  Working on its design were not only local artists – including the painter Bashir Yelles and calligrapher Abdelhamid Skander – but a Pole, the sculptor Marian Konieczny, while the company responsible for its construction was a Canadian one, Lavalin.
Transport:
The Memorial aerial tramway can reach the monument from the Test Garden of Hamma.
The El Madania aerial tramway can reach the Hamma district from Diar el Mahçoul.
A taxi rank is located in the Esplanade shopping center Riadh El Feth.
Location on Google MAP:
https://www.google.co.uk/maps/place/M%C3%A9morial+du+Martyr/@36.7463811,3.0667188,15.25z/data=!4m5!3m4!1s0x128fb29d7535eb55:0x933ce25cf4c7ab3c!8m2!3d36.7456417!4d3.0697775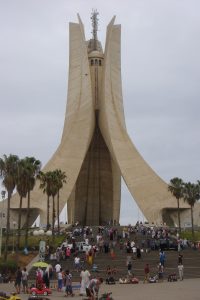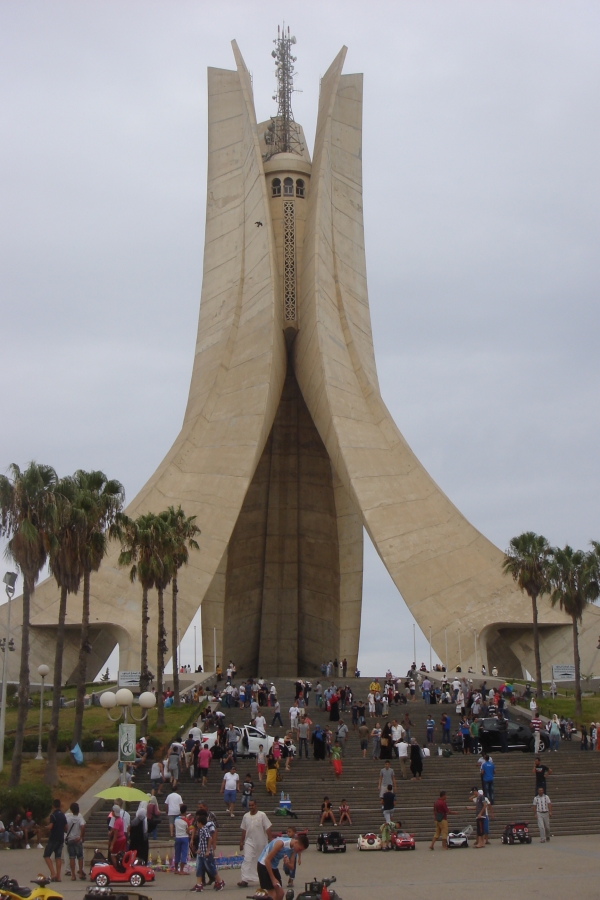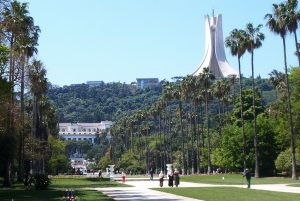 theculturetrip.com+ bloodandporridge.co.uk+ WIKI