Niamey (Niger), (SPS) – The Saharawi President of the Republic, the Secretary General of the Polisario Front, Mr. Brahim Ghali, arrived in the Nigerien capital, Niamey, to participate in the work of the African Union Extraordinary Summit on Industrialization, Economic Diversification, and Free Trade.
President Brahim Ghali was received by the Nigerien Prime Minister, Mr. Ouhoumoudou Mahamadou, accompanied by the Minister of Agriculture, Dr Malick Niango Ba, within the framework of Niger's reception of heads of state and delegations participating in the extraordinary summit of heads of state and government of the African Union on industrialization and economic diversification in the continent.
The Saharawi President of the Republic is accompanied by an important delegation that includes Mohamed Salem Ould Salek, Minister of Foreign Affairs, Nana Labat El Rashid and Abdati Abrika Advisors to the Presidency, Laman Abaali ambassador to the African Union.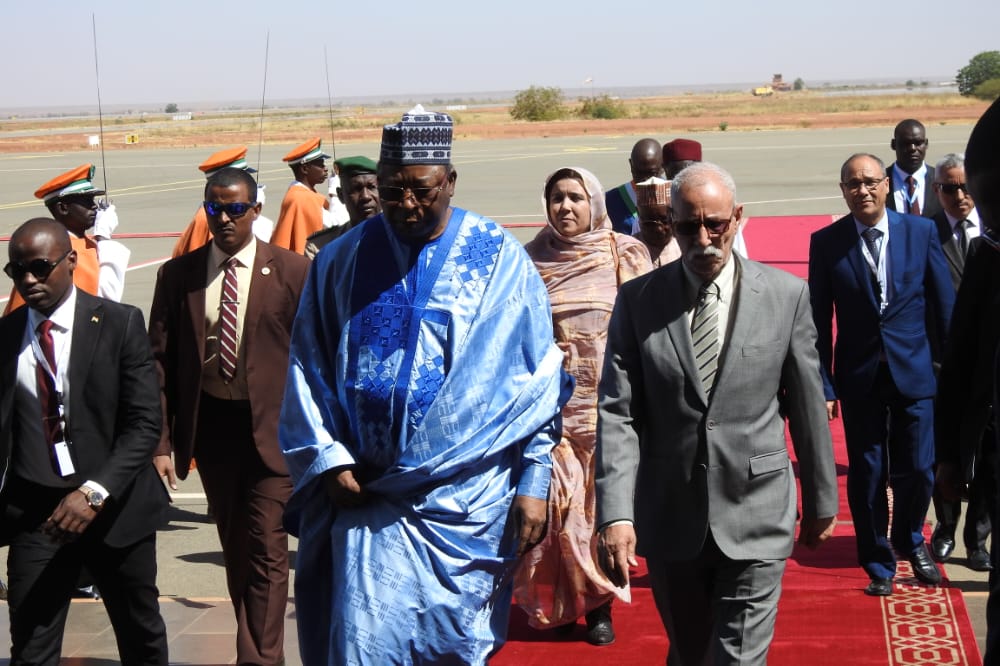 The African Union Summit on Industrialization and Economic Diversification will be convened under the theme "Industrializing Africa: Renewed commitment towards an Inclusive and Sustainable Industrialization and Economic Diversification."
The summit will start on November 25th, after the Executive Council of the AU discusses reports and draft resolutions that will be submitted to the extraordinary summit of the heads of state and government of the AU for approval.
The Summit will be convened as part of the Africa Industrialization Week annual commemorative activities. Given the importance of industrialization and economic transformation in Africa, the 20th of every November is commemorated as the Africa Industrialization Day, adopted by the Assembly of Heads of State and Government of the Organization of African Unity in July 1989, in Addis Ababa, Ethiopia.
The Africa Industrialization Day provides an opportunity to key stakeholders to reflect on Africa's industrialization by looking at how the continent can change its current status quo. Since 2018, the Africa Industrialization Day has been commemorated with weeklong events, marking a departure from the one-day tradition, and which affords more time to reflect and accelerate actions towards Africa's structural transformation, as an enabler to meet the objectives of Agenda 2063, and SDGs 2030.