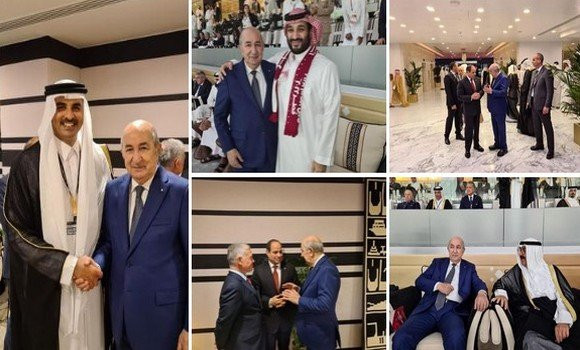 DOHA- The President of the Republic, Abdelmadjid Tebboune met, Sunday evening in Doha, with several Arab leaders on the sidelines of the opening ceremony of the World Cup-Qatar 2022.
On this occasion, President Tebboune met in the hall of honor of the "Al-Bayt" stadium, before the start of the opening ceremony, the Emir of Qatar, Sheikh Tamim bin Hamad al-Thani, the Egyptian President, Abdel Fattah al-Sisi, King Abdullah II of Jordan, and Saudi Crown Prince Mohammed bin Salman.
President Tebboune commends exceptional organization of Qatar's World Cup 2022- Video
President Tebboune attended the opening ceremony of the World Cup-Qatar 2022 where he praised, in a statement to the press, the exceptional organization of this world sporting event.
President Tebboune welcomed, Sunday, in Doha the exceptional organization of the World Cup 2022 in Qatar, dubbing the opening ceremony as "excellent and great".
In a statement to the Qatari channel "Al-Kass" after the opening ceremony of the World Cup, President Tebboune said that "the organization is exceptional and honors the sisterly State of Qatar and the Arab world."
In this vein, President Tebboune has denounced the suspicious campaigns targeting the State of Qatar prior to the start of the World Cup, shedding light on Algeria's permanent and full support for Qatar in this tournament.
"The excellent organization has cut off all allegations and rumors that preceded the kickoff of this major world event," continued the President of the Republic.
"We should be proud, as Arab countries, of the level reached by Qatar in the organization of such a global event," said the head of state, stressing that "all eyes are on Qatar. This is great and the organization is excellent."
"I hope to see one day two Arab countries host a final of the World Cup," aspired the President.
"This global tournament organised by Qatar will remain engraved in the history of football," asserted Tebboune.
President Tebboune, on Saturday, flew to Qatar to attend the opening ceremony of the football World Cup 2022, at the invitation of his brother, His Highness, Sheikh Tamim Bin Hamad al-Thani, the Emir of the sisterly state of Qatar.
Prime Minister, Aimene Benabderrahmane, Army General, Said Chanegriha, Chief of Staff of the People's National Army (ANP), and the Chief of Staff at the Presidency of the Republic, Abdelaziz Khellaf saw off President Tebboune upon his departure from Houari Boumediene International Airport.
Upon his arrival in Doha, President Tebboune was welcomed by His Highness Sheikh Abdellah Bnou Hamed Al-Tani, Vice-Emir of the State of Qatar.
Algerian-Qatari relations have witnessed a remarkable enhancement, where the emir of Qatar attended the opening ceremony of the 19th version of the Mediterranean Games organised in the Algerian city of Oran last summer. He also attended the Arab League Summit held early this month in the Algerian capital, while the Algerian President visited Qatar last February.