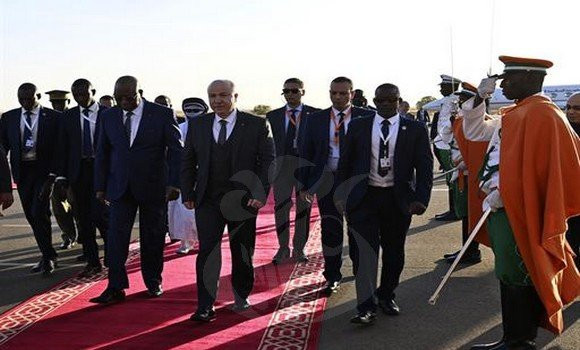 NIAMEY-In his capacity as representative of the President of the Republic, Abdelmadjid Tebboune, Prime Minister Aimene Benabderrahmane arrived, Friday in Niamey (Niger), to take part in the 17th Extraordinary Summit of the African Union (AU) on Industrialization and Economic Diversification in Africa, and the African Continental Free Trade Area (AfCFTA).
Upon his arrival at Niamey International Airport, Mr. Benabderrahmane was welcomed by the Prime Minister of Niger, Mr. Ouhoumoudou Mahamadou, and the Minister of State at the Presidency of the Republic, Mr. Rhissa Ag Boula.
The Prime Minister is accompanied during these works by the Minister of Foreign Affairs and National Community Abroad, Ramtane Lamamra, the Minister of Industry, Ahmed Zaghdar, and the Minister of Trade and Export Promotion, Kamel Rezig, in addition to the Algerian Ambassador to Niger, Mehdi Bekhedda.
The work of the AU Extraordinary Summit begins this Friday at the "Mahatma Gandhi" International Conference Center (Niamey), under the theme: "Industrializing Africa: Renewed commitment towards an Inclusive and Sustainable Industrialization and Economic Diversification", with the participation of leaders and officials of AU member countries.
The Summit will be convened as part of the Africa Industrialization Week annual commemorative activities. Given the importance of industrialization and economic transformation in Africa, the 20th of every November is commemorated as the Africa Industrialization Day, adopted by the Assembly of Heads of State and Government of the Organization of African Unity in July 1989, in Addis Ababa, Ethiopia.
The Africa Industrialization Day provides an opportunity to key stakeholders to reflect on Africa's industrialization by looking at how the continent can change its current status quo. Since 2018, the Africa Industrialization Day has been commemorated with weeklong events, marking a departure from the one-day tradition, and which affords more time to reflect and accelerate actions towards Africa's structural transformation, as an enabler to meet the objectives of Agenda 2063, and SDGs 2030.