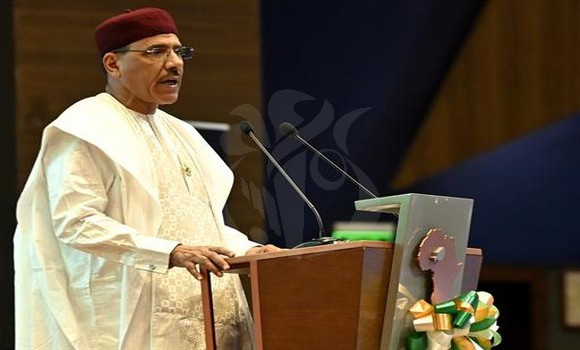 NIAMEY – The work of the 17th Extraordinary Summit of the African Union (AU) on industrialization and economic diversification in Africa, placed under the theme: "Industrializing Africa: Renewed commitment towards an Inclusive and Sustainable Industrialization and Economic Diversification", began, Friday in Niamey (Niger), with the participation of the Prime Minister, Mr. Aïmene Benabderrahmane, in his capacity as representative of the President of the Republic, Mr. Abdelmadjid Tebboune.
The Prime Minister is accompanied by the Minister of Foreign Affairs and National Community Abroad, Ramtane Lamamra, the Minister of Industry, Ahmed Zaghdar, and the Minister of Trade and Export Promotion, Kamel Rezig, in addition to the Algerian ambassador to Niger, Mehdi Benkhedda.
At the start of the work, the Chairperson of the AU Commission, Moussa Faki Mahamat, indicated that "the transition to industrialization in Africa passes through the agricultural sector given its great importance", stressing that "the success of industrialization, economic diversification and the African Continental Free Trade Area (AfCFTA) cannot be ensured without the political will and unity of all AU member countries".
For his part, the President of the Republic of Niger, Mr. Mohamed Bazoum, affirmed, in his speech, that "the African continent conceals underground, natural and energy wealth, of all types, and significant capital".
Bazoum also noted "the need for African leaders to demonstrate political will, unity and determination, to bring the industrialization process to a successful conclusion, achieve economic diversification in the continent, and ensure the digital transition through training, research, and the use of information and communication technologies (ICT) as a catalyst".
He also stressed that industrialization should ensure "complementarity between the two public and private sectors, with the creation of Small and Medium Enterprises (SMEs) that respond to the needs of the continent".
The Summit is convened as part of the Africa Industrialization Week annual commemorative activities. Given the importance of industrialization and economic transformation in Africa, the 20th of every November is commemorated as the Africa Industrialization Day, adopted by the Assembly of Heads of State and Government of the Organization of African Unity in July 1989, in Addis Ababa, Ethiopia.
The agenda of the 17th session of the extraordinary summit, organized within the framework of this week, will focus on the policies of industrialization and economic diversification, and the African Continental Free Trade Area (AfCFTA). The event will be an opportunity for key stakeholders to reflect on Africa's industrialization by looking at how the continent can change its current status quo. Since 2018, the Africa Industrialization Day has been commemorated with weeklong events, marking a departure from the one-day tradition, and which affords more time to reflect and accelerate actions towards Africa's structural transformation, as an enabler to meet the objectives of Agenda 2063, and SDGs 2030.
Here is the link to the opening ceremony: