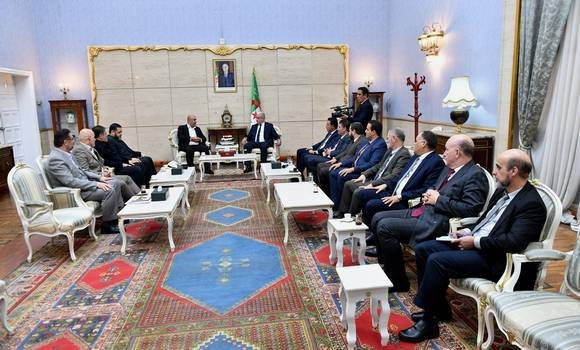 ALGIERS- The Speaker of the People's National Assembly (APN), Brahim Boughali received, on Sunday, at the Assembly headquarters a delegation of the Palestinian Movement Hamas, led by Zaher Jabarin, Head of Hamas' Office of Martyrs, Wounded and Prisoners.
During the meeting, Mr. Boughali reaffirmed the centrality of the Palestinian cause for all Algerians, considering "that it is the duty of every parliamentarian to defend this noble cause at regional and international levels".
On this occasion, the Speaker of the APN insisted on the need to give the Palestinian cause the same importance as other international issues, denouncing the policy of double standards.
After reviewing the latest developments in the Palestinian cause, Mr. Jabarin hailed the results of the Gathering Conference for Palestinian National Unity, held in Algiers last mid-October, affirming that the Movement was determined for the signing of "the Algiers Declaration", resulting from this initiative, while noting that all measures have been taken for its implementation.
The meeting was an opportunity for the Palestinian delegation to request Algeria's help and support, at the level of regional and international human rights and humanitarian organizations with regard to the issue of the rights of prisoners in the prisons of the Zionist entity.