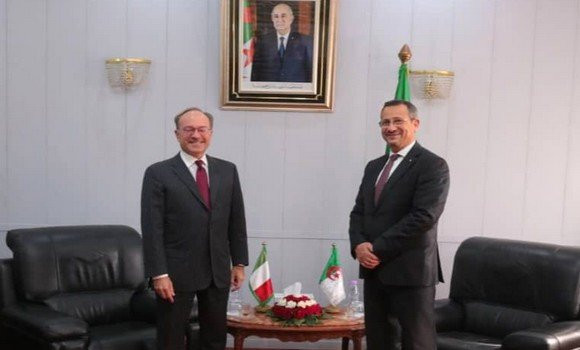 ALGIERS – The Minister of Public Works, Hydraulics and Basic Infrastructures, Lakhdar Rekhroukh received, on Sunday in Algiers, the Italian Ambassador to Algeria, Giovani Pugliese, with whom he examined the ways and means of strengthening the bilateral cooperation, said a press release from the Ministry.
The two parties discussed, during the meeting, the bilateral relations and the areas of cooperation and partnership between Algeria and Italy in the field of public works and hydraulics, specified the same source.
After discussing several issues of common interest, "Mrs. Rekhroukh and Pugliese reviewed partnership opportunities and ways to strengthen and develop cooperation ties, while emphasizing the imperative of continuing efforts to promote relations between the two friendly countries in the field of public works and hydraulics".
The two parties also discussed the projects whose implementation is entrusted to Italian companies and the means of strengthening them with additional capacities in order to give them a new impetus, the statement concluded.