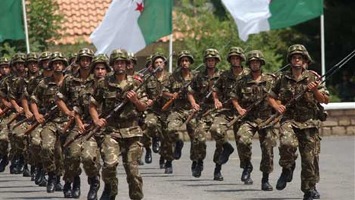 The same source stated that, caches containing two mines and a grenade, four home-made projectiles, mortars, grenade and an electric generator besides, equipment for the manufacture of explosives.
In the framework of the fight against organized crime, a detachment of the National People's Army arrested in Gglizan, 2nd Military Region, four drug traffickers and seized 11 quintals of qualitative, in addition to a tourist car and a truck.
Moreover, border guards at Almnabhh, in Bashar, 3rd Military region, other quantity estimated at ten kantars and 30 kg.
In In Guezzam, 6th Military Regio, a detachment of the National People's Army intercepted four smugglers on board of a truck, suspected to be came from the territory of Libya through Niger, loaded with an amount of fuel estimated at 42,000 liters.
Other detachments have also arrested fifty illegal immigrants of different nationalities and seized three four-wheel drive vehicles, and 3.25 tons of food was intended for smuggling.