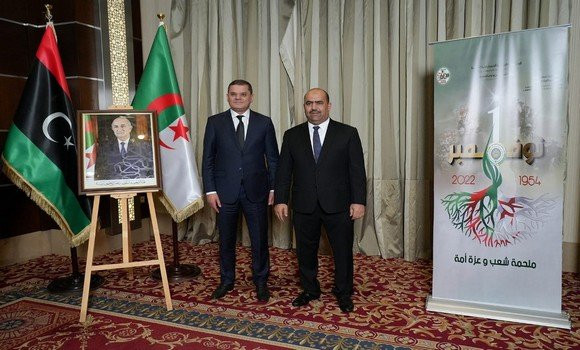 ALGIERS- The Algerian Embassy in Libya organized a reception in celebration of the 68th anniversary of the outbreak of the glorious November Revolution in the presence of the Head of the Libyan National Unity Government, Abdel Hamid Dbeibah and a number of Libyan ministers.
The reception also saw the presence of members of the House of Representatives and the High Council of State, in addition to representatives of the diplomatic corps and civil society as well as the socio-cultural component.
On this occasion, the Algerian ambassador to Libya, Slimane Chenine, welcomed the great return of Algerian diplomacy under the leadership of the President of the Republic, Mr. Abdelmadjid Tebboune at the regional and international levels, in particular through the holding of the 31st Arab Summit, on November 1 and 2 in addition to the success of the reconciliation between the Palestinian factions, recalling that Algeria also aspires to obtain membership in the Security Council for the period 2024/2025 to pursue its efforts in the service of peace and security worldwide.
The Algerian diplomat highlighted Algeria's stance vis-à-vis the Libyan crisis, rejecting external interference in Libyan internal affairs, in addition to supporting the efforts of the UN envoy to Libya to reach a solution in favor of this crisis within the framework of an inter-Libyan consensual solution but also to achieve national reconciliation with a view to organizing elections, allowing the Libyan people to choose their representatives at the level of political institutions.
Highlighting the greatness of the Algerian revolution, Mr. Chenine praised the support of the Libyans to the Algerian people during their struggle for liberation, while insisting on the importance of cohesion between the Algerians and their Army to preserve Algeria's stability and security.
The head of the Government of National Unity of Libya Mr. Abdelhamid Dbeibah recalled, in his speech, the depth and solidity of Algerian-Libyan relations based on a great heritage of solidarity and fraternity between the Algerian and Libyan peoples, particularly during the period of struggle against colonialism, welcoming Algeria's position in favor of the Libyan people and the sovereignty and unity of Libya.