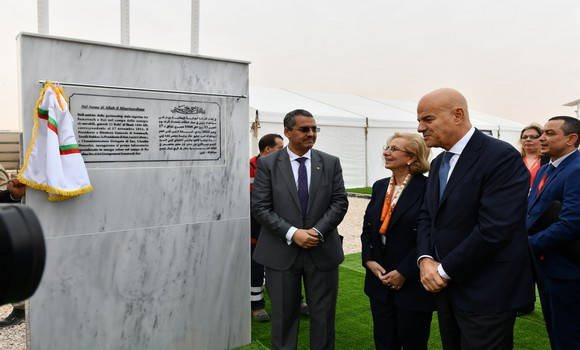 ALGIERS- Sonatrach Group and Italian ENI opened, on Thursday, a laboratory for solar energy "Solar Lab" and laid the foundation stone of a second photovoltaic solar plant of 10 megawatts in Bir Rbaa Nord in the basin of Berkine (Ouargla).
The launching ceremony of these partnership projects was led by the CEO of Sonatrach, Toufik Hakkar and the CEO of Eni, Claudio Descalzi, in the presence of the President of Eni, Lucia Calvosa, as well as the senior executives of Sonatrach and members of the Eni Group Board of Directors.
In this vein, Algeria's national gas and oil supplier Sonatrach and Italy's Eni said that they will build their new 10 MW solar project at the Bir Rebaa North (BRN) oil production complex in the Berkine basin, in southeastern Algeria. Together with an existing 10 MW facility that opened at the BRN complex in 2018, the new solar installation will double the renewable energy available to power upstream processes in the oil field.
"It will be followed by another PV facility at the Menzel Ledjmet East Project (MLE) production complex, also in the Berkine Basin, whose construction is expected to begin in 2023," Eni said in a statement.
The Italian-Algerian consortium also inaugurated their Solar Lab. The new facility will collect and analyze data to test the efficiency of different PV technologies in southern Algeria's high irradiation conditions.
"The Solar Lab will be open to universities and other public institutions for research purposes," said the companies.
Eni and Sonatrach joined hands in the solar energy sector in 2017. Sonatrach and Sonelgaz also jointly own Société Algérienne des Énergies Renouvelables Spa (SHAEMS), which will be allowed to take a stake of up to 25% in the special purpose vehicles that will own the winning projects in Algeria's recently launched 1 GW solar tender.