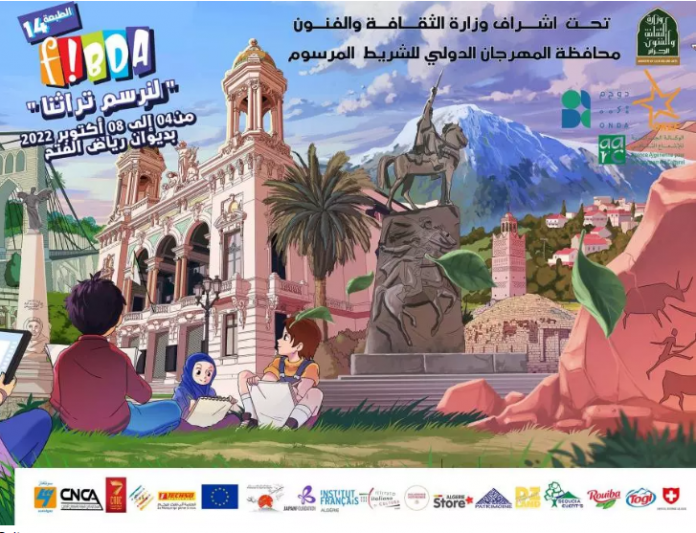 ALGIERS-The 14th International Comics Festival of Algiers (Fibda), scheduled on 4-8 October, will receive Algerian and foreign cartoonists from a dozen countries including Japan, guest of honor of this edition, the festival curator, Salim Brahimi announced Tuesday in Algiers.
Placed under the motto "Let's draw our heritage", the 2022 edition of the most important cultural event dedicated to the 9th art in Algeria and Africa, will be marked by various activities in connection with the sixtieth anniversary of independence through an educational program, organized at the Riadh El-Feth Esplanade, said the commissioner during a press briefing.
In addition to Japan, countries of honor with manga authors, including Italy, France, Congo, Egypt, Lebanon and, for the first time, Mexico, will participate in this festival.
Visitors will have the opportunity to discover the creations of Algerian and foreign creators on comics and Japanese manga through exhibitions and workshops supervised by professionals.
On the program for this edition, educational and fun activities dedicated to the 9th art, led by designers, illustrators and cartoonists who will meet the public, according to the organizers.
On the occasion of the 60th anniversary of independence and youth, a conference on comics entitled "Means of struggle for the affirmation of national identity" will be led by writer and poet Lazhari Labter, while the illustrator and author of comics Benyoucef Abbas Kebir, will host a meeting, entitled "Little Omar, the child of the Casbah".
The French writer Frédéric Ciriez will present his illustrated book "Frantz Fanon", which looks back on this writer, psychiatrist and anti-colonialist activist who marked the history of Algeria and his meeting in Rome (Italy) with the thinker Jean-Paul Sartre .
Italian comics will be retraced through a meeting hosted by the author Virginio Vona.
The public is also invited to discover exhibitions highlighting comic strip creations on the Mediterranean Games of Oran (2022), "Ali la Pointe" by Benyoucef Abbas Kebir and Algerian comics and Japanese manga.
The guest of honor country has scheduled a conference on the Kyoto International Manga Museum as well as a meeting on "Algerian manga seen from Japan" led by Japanese academic Aoyagi Etsuko.
Alongside the exhibitions, introductory workshops in comics and screenplay writing will be on the program for this edition, which also includes activities for children and young people.
The educational program also includes workshops on comics in the Amazigh language and Japanese manga.
A tribute will be paid to the Algerian cartoonist Slimane Zeghidour, one of the illustrators who was part of the team of the famous magazine "M'quidech", through an exhibition which will be dedicated to his works.
Public access is set at 400 DA for adults and 200 DA for children, the organizers noted.