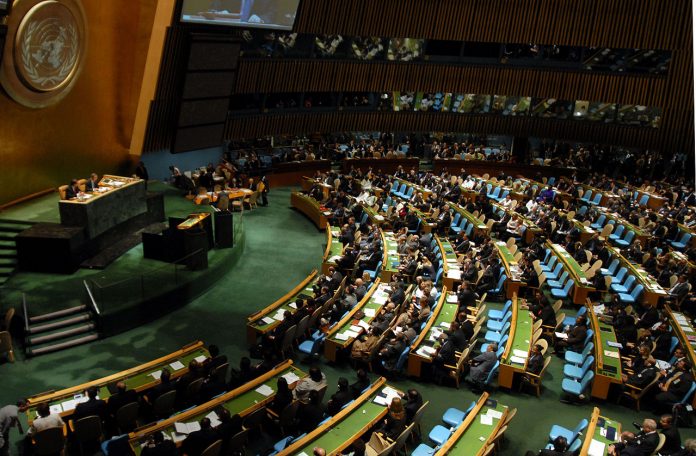 New York (United Nations)- The Algerian delegation attending the 77th session of the United Nations (UN) General Assembly in New York (20-23 September) exercised, Thursday, its right of reply to counter "the false and misleading allegations" of Morocco regarding the Western Sahara issue.
In its statement, the Algerian delegation, which had asked to exercise its right of reply to refute the misleading and seasonal allegations of the Moroccan representative in a "desperate attempt to exploit at every opportunity the platforms to spread its propaganda and lies about the Western Sahara conflict", explained that "based on the legal nature of the conflict (in Western Sahara), this issue was, is and will remain a question of decolonization until the people of Western Sahara exercise their inalienable right to self-determination through a free and fair referendum."
All UN resolutions have confirmed that this conflict is on the agenda of the United Nations in accordance with resolutions 1514 and 1541 of the General Assembly, recalled the Algerian delegation.
"These resolutions also clearly designate the two parties to the conflict: Morocco and the Polisario Front, internationally recognized as the sole legitimate representative of the people of Western Sahara. As for the issue of the so-called autonomy solution imposed as the only solution, it threatens the foundations of international legitimacy and the UN Charter, and contradicts the well-established doctrine (of the United Nations) in the field of decolonization," said the source.
As for "the mechanism of the round tables, ineffective and unproductive, and as usual, Morocco, faithful to its colonial approach, has used this mechanism in a desperate attempt to introduce confusion to the nature of the conflict, to circumvent international legitimacy and transform the nature of this conflict from an issue of decolonization to a bilateral conflict."
'The reception by Algeria of Sahrawi refugees in the camps of Tindouf, from October 31, 1975, is the result of the illegal occupation of Western Sahara by Morocco, after the departure of the former colonial power."
Algeria remains convinced that the issue of the refugee census is purely technical and is an integral part of a comprehensive political plan under the peace plan adopted by the United Nations in 1990.
As for the census, it only makes sense if it is part of a fair and free referendum aimed at allowing the people of Western Sahara to exercise their inalienable right to self-determination, in accordance with international law," said the Algerian delegation in response to the lies of the Makhzen, which has illegally occupied this territory since 1975.
Regarding the "false allegations and slander that Morocco promotes on the alleged relations of Sahrawi refugees with terrorist groups, this is just a new episode in a miserable series aimed at distorting the struggle of the people of Western Sahara, who aspire to exercise their right to self-determination like all peoples of the world."