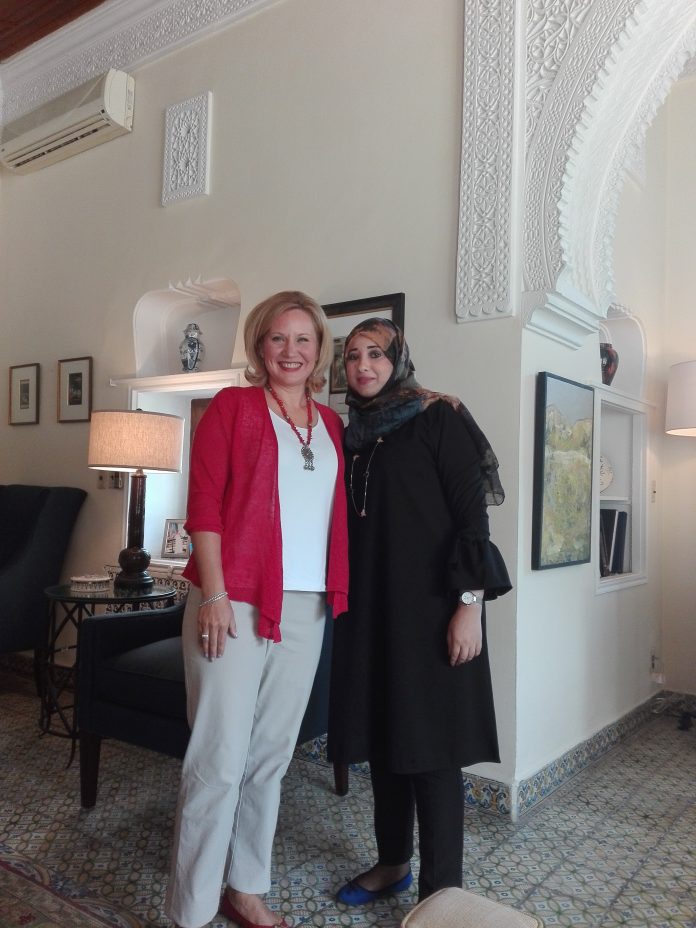 Dz Breaking's journalist Hana SAADA had an interview with Madam Karen Rose, the wife of His Excellency, US Ambassador to Algeria, Mr. John Desrocher. Here is the full interview:
Thank you very much for accepting this interview
It is an honor for us to have an interview with you Madam. We would like to dive a little bit in your daily life if you allow us to do so.
*What was your impression when you first heard that your husband, His Excellency Mr. John Desrocher was appointed as US Ambassador to Algeria?
Karen Rose: Well, it was really exciting, and I had done some travels in the region before, but I have not been to Algeria and it is a country which I did not know much about, however, I visited Tunisia and Morocco which have similar traditions and culture.
Besides, I did some research about Algeria before I got here, and read some books that were translated into English, so I had an introduction about Algeria's history before I came here.
*How do you assess your first year here in Algeria?
Karen Rose: It has been fantastic and beyond my expectations in every way in terms of how beautiful the country is, in terms of how interesting and diversified the culture is here, in terms of how welcoming and friendly the people are. Every day here in wonderful.
*How do you spend your day in Algeria? And also during weekends?
Karen Rose: I practice sports five days a week; I go to the gym and walking too. I usually go shopping in the downtown.
*Do you often attend cultural events and exhibitions held in Algiers and other provinces?
Karen Rose: Yes of course, sometimes, I do them on my own and I go also with my friends to galleries and the Palace of Culture. Besides, I travel with my husband to other provinces to visit historical sites and ruins.
*Does being the wife of an Ambassador involve parties and functions many times during the week which may have negative impact on your personnel life?
Karen Rose: I do not find going to functions and attending events difficult, on the contrary, I enjoy this. When I am able to go, especially with my husband, I go.
*We have noticed that you are so active in terms of paying visits to several institutions and Zaouis etc, how have you found Algerians? Are they sociable and affable?
Karen Rose: I think that Algerian people are fantastic and wonderful (crying) and especially young people who are full of energy and excitement. They are very welcoming and sharing; they want to share everything about Algeria, the culture and their daily life.
*How many provinces have you visited? Can you name them?
Which province have you liked the most? And why?
Karen Rose: This is a very tough question (laughting), one of the things that are amazing about Algeria is that each region has its own flavor, own culture, own tradition, own customs, so they are all wonderful. I went to Oran, Tlemcen, Tamanrasset, Ghardaia, Timimoun, Bejaia, Setif, Constantine, Blida and Tipaza. I am sure that I will visit more provinces in the coming years.
All the provinces are engaging and you can find something unique everywhere. The Algerians share a very strong sense of the Algerian identity, they are proud of being Algerians and their origins, customs as well as traditions.
*Have you identified a specific segment that needs upgrading to further enhance the potential of the tourism sector in Algeria?
Karen Rose: I think the lack of communication; you have to tell people about what is here in Algeria. I will give you an example; when I posted photos on my Facebook page about my visit to Djemila (Setif province), people around the world were surprised and expressed their willingness to visit Algeria's ruins. So, you have to tell people about what is here in Algeria in terms of touristic sites and museums.
On the practical level, the lack of the use of credit cards; many European and American tourists use credit cards instead of cash, so this could cause a problem for them. Thus, having credit cards will help to get more tourists in Algeria.
*As regards food, how have you found Algerian traditional recipes? What do you like the most?
Karen Rose: Of course, I like Algerian traditional food, especially, Rechta, Couscous, Chekhchoukha as well as Mechoui.
The most important thing about having food in Algeria is enjoying people's company because Algerians eat in groups and have discussions while eating, this is wonderful.
*As long as clothing is concerned, do you like Algerian traditional outfits?
Karen Rose: Absolutely yes, I wore Tlemcen's Chedda. It was a great experience. I was very lucky.
In fact, I was at a museum during a tour in Tlemcen province, where they were displaying traditional outfits. Then, a woman came up to me and asked me to try the outfit. It was great, I felt like a princess.
Besides, I like Berber jewelry. Look at my necklace; i bought it when I was in Bejaia province.
I hope to wear more Algerian traditional outfits in the future.
*Moving to ceremonies; both religious and national ones, have you ever attended a ceremony? What was it? What is your impression about the customs and rituals of those celebrations?
Karen Rose: I have attended ceremonies. Also, I have a habit to visit the mosques in each city that we go to. I find the mosques' architecture and calligraphy wonderful and amazing. They are peaceful places. The Imams (preachers) are always extremely generous with their time and explain to us about everything.
Regarding national celebrations, I have not been to such big event yet but we have more years to do so.
*If you could give one piece of advice to people interested in visiting Algeria, what would it be?
Karen Rose: There is always something amazing and surprising in every corner in Algeria whether it is something big like seeing fantastic ruins to little small things like enjoying a coffee or a meal with someone here. The history, tradition and people are totally unique.
I advise foreigners to pay a visit to this wonderful country.
*Thank you for your time. It is my pleasure Madam.
Karen Rose: You are most welcome.
Hana SAADA.
An Algerian news website aims at covering all the country's territory through providing objective and positive image, focusing the most on breaking news.
A dynamic team is working on feeding the website by credible information in all fields of life; a reliable network composed of specialized elements working in harmony with our team in Algiers, the website's headquarter, provides us more coverage and simultaneity.
"English" is what makes us different in Algeria and ranks us first too not only as a news website; English also makes it simple and fast for Anglophone world to discover our country.